Let me tell you a little bit about Debbie...
She is more like a sister to me than a friend. She has been there for the ups and downs of the past 5 years. She loves to cook and eat (and talk about food) as much as I do. She loves my boys just like family. She is someone that inspires me with her loyalty to her friends and her strong faith. She is fun and full of life and acts MUCH younger than her milestone birthday!
While she was away sipping champagne and eating foie gras in Paris, Bethany and I were secretly making plans to surprise her with a birthday party to remember...
Decorating ideas for the perfect Paris party!
If you know Debbie, you know her favorite color is orange and she loves Hermes scarves. We had to use that as the theme for her birthday party!
While Debbie was at work one weekend, Bethany drove down from Memphis to help me cook and to sneak into Debbie's house and transform it into this...
Debbie is one of the few people that has their own signature word... FABO! It's short for fabulous, but it's an extra fabulous word! Paris, Hermes, the color orange... of course it was FABO!
Bethany found the adorable orange mini frames at the craft store.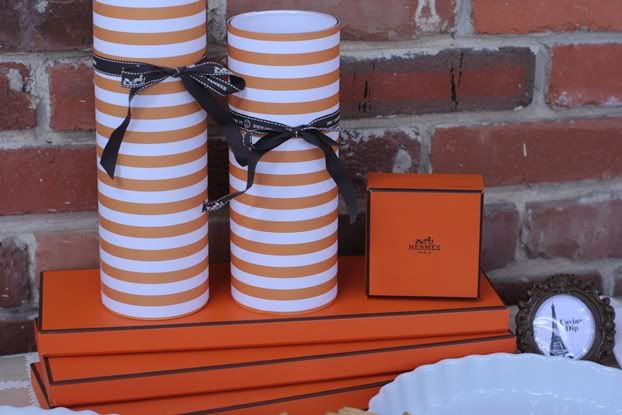 We decorated with Hermes boxes and bags.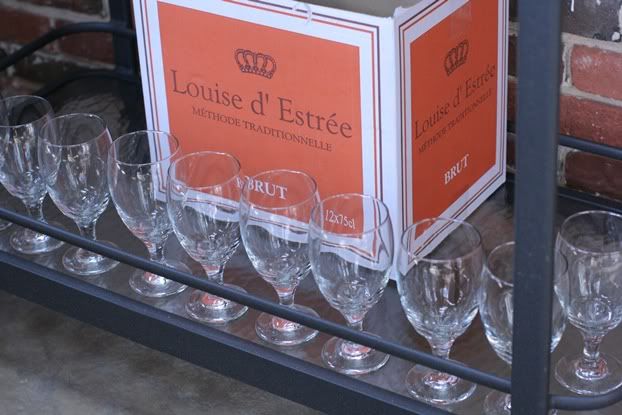 What Paris party would be complete without lots of French champagne, in the perfect shade of orange and brown bottles and boxes!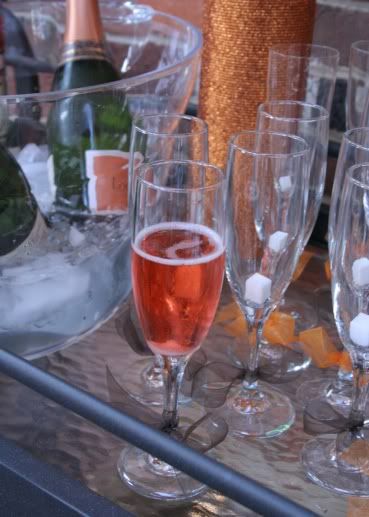 And of course the signature drink had to be called the "French Kiss" cocktail and had to be the perfect color of Hermes orange. (By the way, it's made by pouring a little Campari over a sugar cube and topping with good champagne!)
Eiffel Tower candles... love is in the details!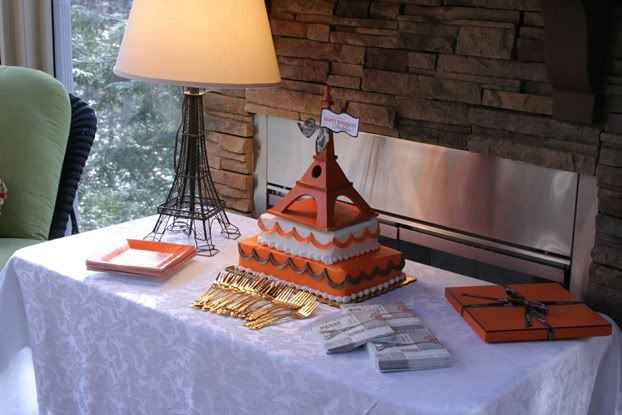 The cake had a custom cake topper that I made by spray painting a wooden Eiffel Tower the perfect shade of Hermes orange and coating it in an extra layer of orange glitter. The I added a little hint at what was coming in that orange and brown box...
We were a hot mess trying to get ready in time and to have the house looking just perfect, but we made it! I could never have thrown this party without Bethany's help, creativity and cooking talents!
All that was left was to wait...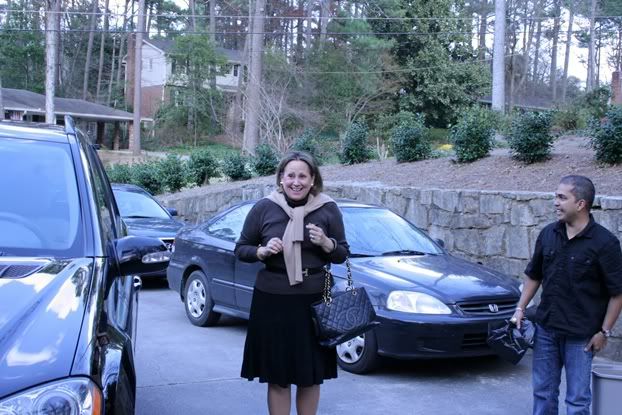 For the birthday girl!
At first Debbie was confused... Why was Firoze in her driveway? Why was I coming out of her kitchen? Why were her best friends from Charleston (Mary and Marie) standing in the garage? Hey, and what was Bethany doing here (leaving her new little baby just to make it here)???
SURPRISE! It's your birthday party! We love you Debbie!
She finally was able to take it all in and sit down and catch up with her friends that had driven 5 hours to surprise her.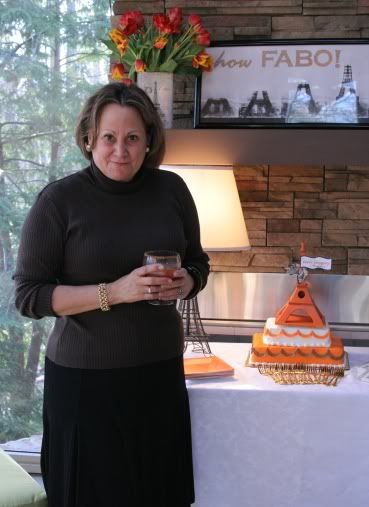 We told her... have a cocktail, get changed out of those work clothes because your party is about to start!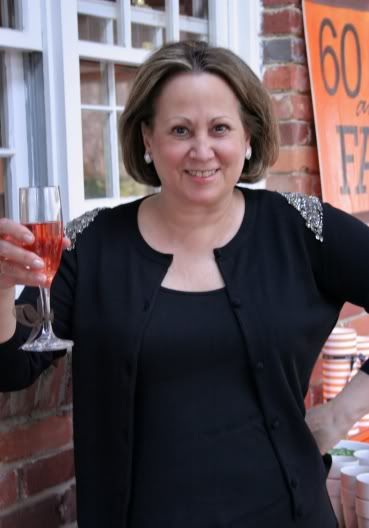 Debbie... you make us hope to be as fabulous as you one day!
Ok, now the food...
Food is love, so we had to shower Debbie with love at her party. She is always cooking for other people and has brought many dinners to my house when I have needed it the most. So, Bethany and I put our heads together to come up with the perfect French menu for a cocktail party:
White Bean Soup with Truffle Oil
Baked Brie with Rosemary and Honey
Cheese Tray with various French cheeses
Arugula Salad with Champagne Vinegrette
Caviar Dip
Gougeres (Gruyere Cheese Puffs)
Garlic Chicken Meatballs with Remoulade Dipping Sauce
Roasted Shrimp Cocktail
Crostini with Black Olive Tapenade
Are we making you hungry? :)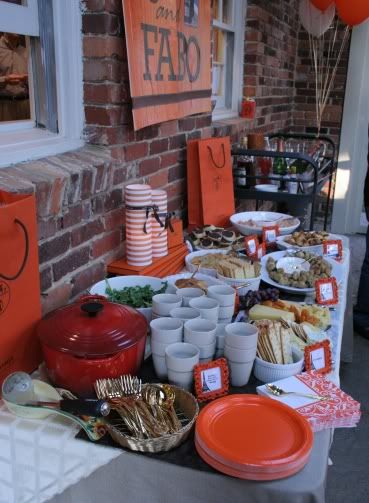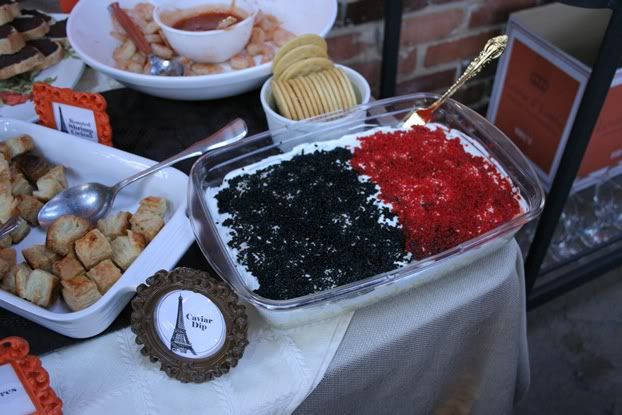 After we ate, it was time to see the Eiffel Tower glitter and shoot fireworks, just like the real thing, so we set that cake a blazin' with some real firework sparklers!
Stand back... it's gonna blow!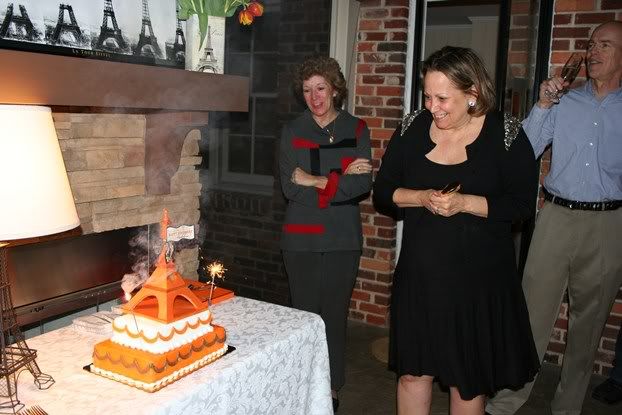 Yay... the house didn't burn down!
Then we had to show her what was waiting for her in that special orange and brown box...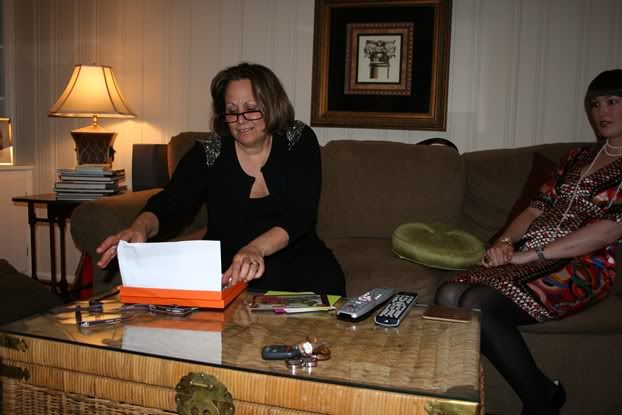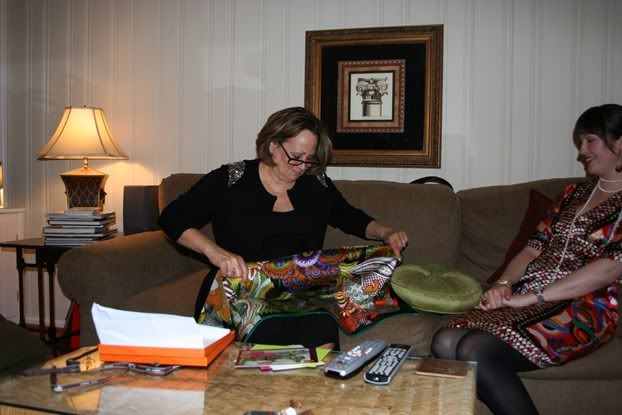 Oh how FABO!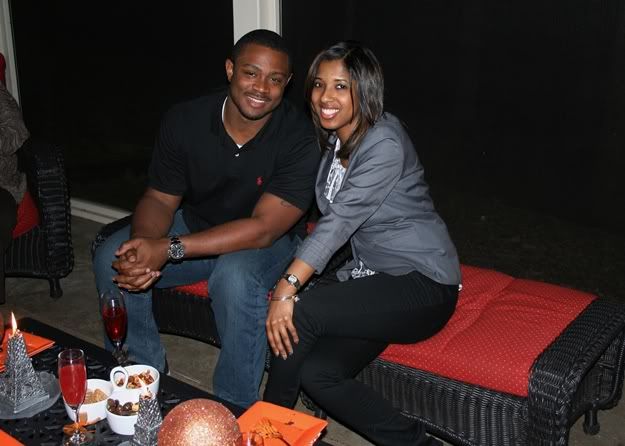 Look at these lovebirds!
And after all that great food and cake, we cranked the music up and got this party STARTED!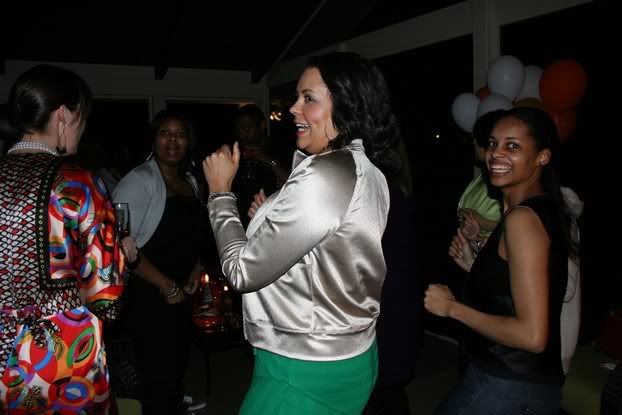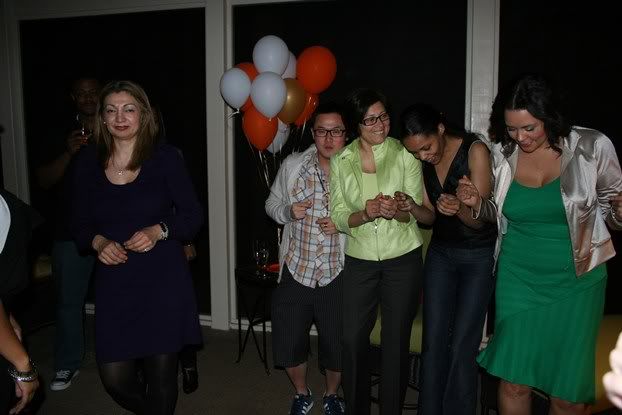 You know it's a great party when...
... your glass is never empty because Firoze is the bartender!!
... and Doug is giving backrubs in the kitchen!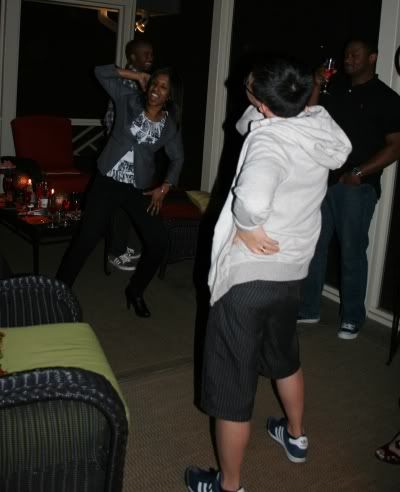 ... and India is getting crunk on Debbie's porch!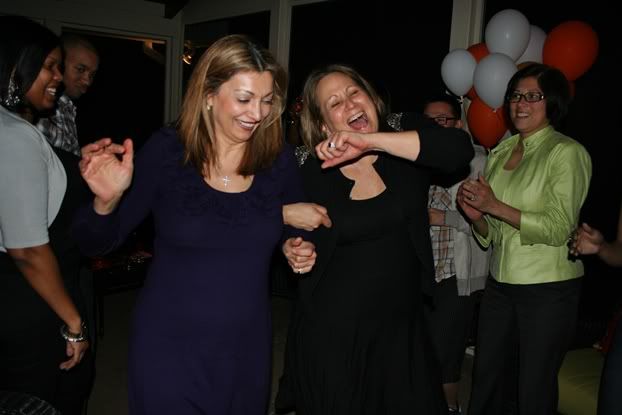 ... and the guest of honor dances like she's 20!
It was truly a FABO night for a FABO friend!