So many things to love about fall...
Kids in hats! Really cute kids in hats! And sweaters too... and layers... just like those Gap ads. What could be more fun than wrangling my boys into "photo worthy" outfits and begging them to frolic and roll in leaves for fall photos? Hmmm... that meant taking off last nights pjs (myself included) at 3pm in the afternoon and hoping that two grumpy kids would turn those frowns upside down!
At first Dean just wasn't having it. He didn't want to laugh and giggle as I gently let leaves float down around him. At least that was my idea. Instead, he was unhappy laying in those weird dirty crunchy things and wondering why the sun was bothering him.
My sweet Devon - no matter if he's "feeling it" or not, he can radiate joy! He's way too cute for words and that's why he can always make me laugh, even when he's getting in trouble.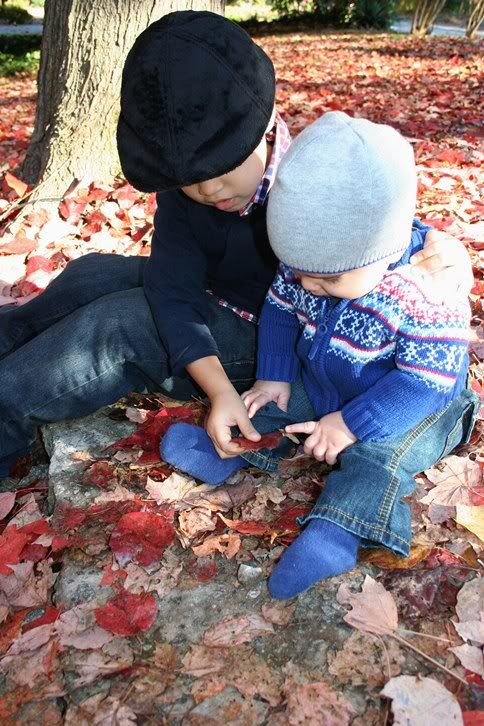 Devon has always been the big brother - from the minute he saw Dean at the hospital on the day after he was born. He wants to do everything for him and can't wait until he can be the little professor and teach him everything he knows.
It was all worth it - that's the photo I was looking for, waiting for... My two sweet boys, looking like angels for one brief second, so cute in their hats, surrounded by the beautiful fall leaves.